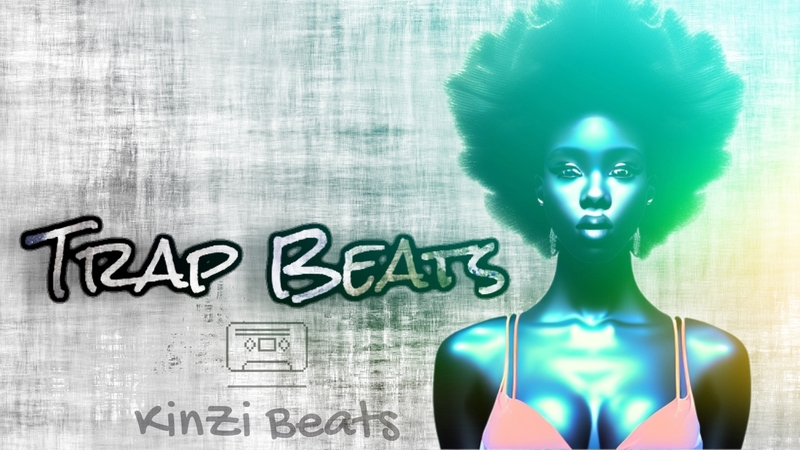 Are you in search of the perfect beats to take your music to the next level? Look no further! KinZi Beats is here to provide you with a treasure trove of top-notch "Trap Beats Instrumentals." Whether you're an aspiring artist, a seasoned pro, or just a music enthusiast, KinZi's collection of meticulously crafted trap beats is sure to captivate your senses and elevate your musical journey.
Available Trap Beats Instrumentals
Trap music has taken the music industry by storm with its infectious rhythms and hypnotic melodies. From chart-topping hits to underground anthems, trap beats are a key ingredient that keeps audiences grooving. They're versatile, adaptable, and suited for various genres, making them a must-have tool in any musician's arsenal.
As a producer and artist, KinZi Beats has been in the game for years, consistently delivering high-quality beats that artists crave. Here are some reasons why KinZi Beats is the right choice for your Trap Beats needs:
Exclusive Soundscapes: KinZi Beats specializes in creating Trap Beats that stand out. His beats are carefully crafted to provide an authentic and unforgettable listening experience. With exclusive soundscapes, your music will have the competitive edge it deserves.
Variety of Styles: KinZi understand that diversity is key in music. Whether you're into dark, atmospheric vibes or energetic, club-ready beats, KinZi Beats has you covered. Explore the extensive range of styles, from melodic to aggressive, and find the perfect beat for your project.
Unparalleled Quality: Each beat is meticulously crafted with precision and care, ensuring that you receive only the highest quality instrumentals.
Affordability: KinZi believe in making top-tier trap beats accessible to all. The prices for this instrumentals are competitive, so you can focus on your music without breaking the bank.
What are Trap Beats?
Trap Beats are a subgenre of hip-hop music characterized by their distinctive and hypnotic sound. They often feature heavy 808 basslines, crisp hi-hats, and captivating melodies. Originating from the Southern United States, Trap Beats have evolved into a global phenomenon, embraced by artists across various genres.
Meet the Maestro - KinZi Beats
KinZi Beats, a trailblazer in the world of beat-making, has left an indelible mark with his unique style and unrivaled expertise. His creative prowess has produced some of the most unforgettable Trap Beats that have graced the industry. As an artist, producer, and visionary, KinZi Beats is constantly pushing the boundaries of what's possible in the world of beats.
The KinZi Beats Experience
When you explore KinZi Beats' creations, you're in for a treat. Each track is a testament to his dedication to perfection. The beats are meticulously crafted to ensure that they resonate with both artists and listeners alike. From hard-hitting basslines that will make your heart race to mesmerizing melodies that will stay with you long after the music fades, KinZi Beats offers an immersive experience that's second to none.
Did you know that KinZi Beats also produces excellent drill beats?
The Best Trap Beats Instrumentals Online
Here, we get to the heart of the matter - the best Trap Beats online. KinZi Beats' portfolio is a treasure trove of beats that cater to a variety of tastes. Whether you're an aspiring rapper looking for the perfect backdrop to your lyrics or a music enthusiast searching for beats that set the mood, KinZi Beats has you covered. With a collection that spans from dark and edgy to light and uplifting, there's something for everyone.
Best Trap Beats by KinZi on YOUR MUSIC STREAMING PROVIDER
 In the ever-evolving world of music, KinZi Beats stands as a beacon of innovation and creativity. His "Trap Beats Instrumentals" are crafted with passion and precision to help you express yourself through music. Whether you're looking to create chart-toppers or underground classics. The trap beats presented here are the foundation upon which you can build your musical legacy.
Follow KinZi Beats
Start exploring the world of trap beats with KinZi and take your music to new heights. With top-tier instrumentals, your musical journey is just a beat away.
KinZi's Trap Beats on YouTube
"Oceane" a Trap Beat Production by KinZi
Unlock your potential with KinZi Beats today and make your music dreams a reality. Don't miss out on the opportunity to infuse your sound with the power of high-quality trap beats. Dive into the world of KinZi Beats today and take your music to the next level. It's time to embrace the best Trap Beats online, and it all begins with KinZi Beats.